Check out the new guitars for sale
The difference is a matter of choice. "Big Factory" guitars only offer what they make. Nothing wrong with that. Coleman is not inventing a new mouse trap but only taking a great design and offering you choices. Can't always get a Fralin, Lollar or Dimarzio pickup on your factory made guitar. Coleman handcrafts affordable custom guitars and basses in your choice of the finest light weight woods and electronics available. Available in Vintage or Transparent colors. You make the choice.
Now offering complete Strat/Fralin loaded pickguards, Tele and Esquire Control Plates. Contact me today. Become part of the growing family that has found Coleman Custom Guitars pursuit of excellence at a realistic price.

Portfolio and Projects - Get Yours Today


***New*** Trans-Red Double Cutaway Custom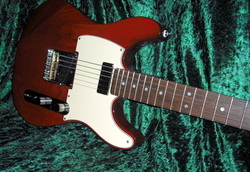 Here is Coleman's newest Custom Double Cutaway. It's made to the highest standard with a beautiful One Piece Swamp Ash Body and almost three dimensional Trans-Red finish.It's Warmoth Pro Mahogany Neck is sleek, fast and has a satin finish on the back. See Gallery for more photos, go to For Sale on purchase information.

---
***NEW***Telecaster Blackguard Custom ***SOLD***

Sorry can't wait to show this one. It's a one piece Swamp Ash with a highly figured Birds-Eye Warmoth Fat Back. Features Lollar Vintage-T pickups and a real bakelite pickguard. It weighs in at an enticing 6.2 lbs. A very special guitar. This is a customers order but you can order one like it. Just go to my Contact Page and leave a message. Become a growing number of players that found Coleman's pursuit of excellence at affordable prices. Sold with options for only $1,750.00 with out case.

---

Twang Thang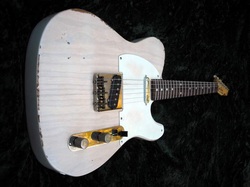 Twang Thang Closet Custom
Lightly Reliced Tele. Looks used but not abused. All new, carefully aged body, neck and hardware. Includes Fender American hardware and pickups. Has a Soft V-Neck with vintage 7.25 radius in either Maple or Rosewood fretboard. Thin Nitro finish that really shows the grain. Order yours today. Starts at $899.00 includes gigbag, shipping to the lower 48 states. Options available.

---
***NEW***Esquire Ultra Light (5.6 lbs)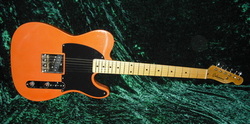 New Tele Esquire Ultra-Light
Combines the light weight Paulownia body with a Lollar Vintage-T pickup for a guitar that makes playing fun. The total weight is an amazing 5.6 lbs. The tone can be described as a vintage woody twang that is very popular among country players. It will rock when needed. The Eldred mod provides three distinct and very usable tones. Very cool for a single pickup guitar. Go to For Sale page to buy it now.

---
***NEW***Blackguard Vintage 1950's Pinecaster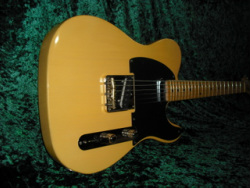 New Pinecaster Butterscotch, Fralins,
Here is Coleman's new Blackguard Pinecaster made to look and sound like the Vintage Teles of the early 50's. Even uses slot head screws to be era correct. Nice and light at only 6.5 lbs. with it's soft v-neck, it's pure pleasure to play. The Fralin hand made 2 % overwound pickups give a tone that retains the clarity of the vintage Tele yet not ice picky and with a little more drive. With the Pine body, the neck pickup does the blues like it was born in Memphis and the bridge pickup provides that woody twang that your looking for. A real tribute to the winning combination that Leo found in the early years. It is available on the For Sale Page now.

---
Nashville Studio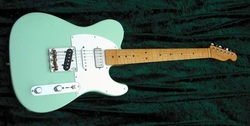 Nashville Tele with Mini Humbucker
This Custom Nashville is one guitar that does it all and more. Warmoth Swamp Ash body in Surf Green and Pro series neck. Seymour Duncan Neck with Fralin mid and bridge pickups. A very popular design. Have one created to your specifications. See the Custom Order page on how to order.

---
Double Cutaway Custom

Coleman's Exclusive
Coleman's unique double cutaway Telecaster takes a great guitar and makes it better. Pine body is very light weight and has an acoustic open tone. Contoured for comfort and finished in thin Surf Green nitro. Firebird style Mini humbucker neck and Fender Custom Shop Nocaster bridge pickups deliver true Tele tone.....just better. Go to For Sale page for how to purchase.



---
Double Cutaway Standard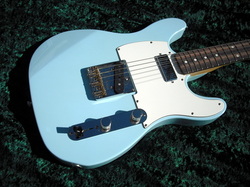 Standard Sonic Blue
Coleman's unique design - Double cutaway Telecaster. Standard model. Sonic Blue thin nitro. Includes light weight, contoured Pine body weighs 6.4 lbs. Rosewood on Maple neck with 9.5 radius and 1 11/16" nut. Pickups include Firebird style mini humbucker neck and Fender Custom Shop Nocaster. Reverse control mod with 3 way selector and no load tone control. Please go to For Sale Page to purchase.



---
Blackguard Custom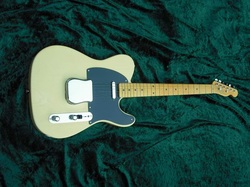 1950's Blackguard Design
Vintage style 1950's Blackguard. This is Coleman's premium Telecaster has a hard to find, super light, one piece, Swamp Ash body. The Nitro Lacquer is hand polished to a thin glossy finish. Available in most Vintage colors. A figured Maple or Rosewood V-Neck adds to the It looks and feels like the original. The pickups are Fralin Standard Vintage and are clean with Vintage Twang. Optional contours cut for comfort. See Custom Order page to get yours the way you want it.

---
Strat Custom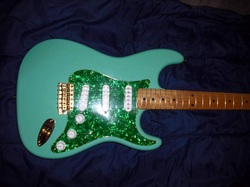 Custom Strat
Alder Body, Maple or Rosewood Fretboard, 9.5 radius, C profile, Fralin pickups. See Custom Order page for how to order yours.

---
Tele Custom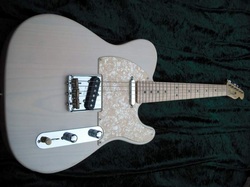 Custom Tele
This tasteful looking Custom Telecaster is probably one of the best playing guitars in the USA due to the PLEK work done on the neck. PLEK is the ultimate in fret shaping and polishing done on a computerized machine invented in Germany. Many guitar companys are now PLEKing their necks. It has a Warmoth Maple neck with a Boatneck profile, is 10 - 16 compound radius and medium jumbo frets. Genuine Fender Swamp Ash body, Klein 5/2 handwound pickups and reverse control plate mod. Also a real Sprague Bumble Bee tone cap.
See For Sale page for details.

---
Strat Custom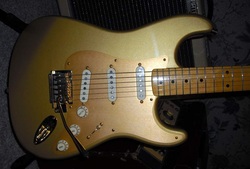 Upgraded Strat
What a beautiful Strat. Another upgrade from Coleman Guitars. Has Fender American Standard Upgrade pickups. Replaced neck with a Fender Japanese V-Neck. Replaced the Fender tremelo with a Trem King tremelo. It solves all the issues inherent to Fender's tremelo and is smooth as glass. Won't go out of tune if you break a string and can D-Tune without re-tuning all other strings. Coleman Guitars installs Trem King Tremelo systems.

---
Meldoymaker P-90's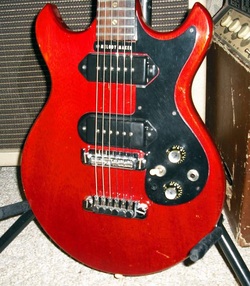 Customized Melodymaker
Coleman installed Seymour Duncan Antiquity P-90's on this 1965 Gibson Melodymaker. What a guitar. It does the blues like it was born that way but has enough Twang to do Country. That was a surprise. Another example of Coleman Custom upgrade ideas. You imagine it Coleman does it. Also available is humbucker and min humbucker setups for LP Jr. and Melodymaker's.

---
Custom Made Control Plates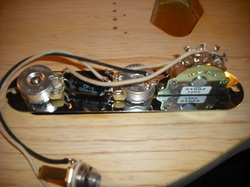 3 way Tele Control with Eldred mod.
New from Coleman
3, 4 and 5 way Tele control plates and Esquire control plates with the popular Eldred mod, regular or reversed. Complete with knobs and 1/4"jack. Same top quality that goes in Coleman Guitars. See Order page for details.

---
Email - bobguitarplayer@gmail.com
Phone - Bob 817 291-4740

Authorized AllParts Dealer - Need a part? I offer a 10 % discount on any part from AllParts.
CopyRight 2012 All Rights Reserved