Coleman Custom Guitars is a small but growing Veteran owned Company, handcrafting high quality T-Series, S-Series and Basses at affordable prices.
Having studied guitar and bass for over forty years, I have actually seen the introduction of many of today's, what are now, "Vintage guitars". After selling hundreds of guitars all over the world, I've experimented with countless combinations of guitars, pickups, pedals and amplifiers in pursuit of that ever so illusive perfect tone. Fact is, tone is subjective but when you hear Vince Gill, Brent Mason or Brad Paisley, you know that's it, the tone you want. I can't help you play like them but I can help you sound like them.
Coleman uses the same top end parts that many of the other independent builders do but I live in a hollow log and drink muddy water. Just seeing if you are paying attention. This is the main difference and saves you money.
. Credit has to be given to Lindy Fralin for building great pickups which are standard on Coleman Guitars. You can spend more but you can't get any better pickups. Fralins pickups, standard on all Coleman models including Bass guitars and our new Tenor guitars.

Coleman S-Series and Bass are unbeatable and come with Fralin pickups as well. All our guitars are at home in the Studio or on the Stage, from Country to Jazz, the same famous tone has found it's place at the top and in the hands of many great artists.
Who plays Coleman Guitars? Touring professionals, Studio guitarists, Praise and Worship players and folks all over the world that know great tone when they hear it.
Coleman's nail the signature sparkling tones that just don't come any more in factory guitars. We will gladly do it your way using pickups you choose to get that special tone you have in mind.
We are committed to excellence in play-ability, looks and tone, for our own satisfaction as well as yours. Players making guitars for players. With the availability of boutique pickups from wizards like Fralin that take tone to a new level. Coleman makes it affordable. We use parts made in USA as much as possible, supporting American jobs.
If you are not satisfied with your purchase within 3 days, you may return your guitar in it's original condition and Coleman will refund your money, less shipping and a 25% restocking fee.
Hand-crafted with Texas pride, in Ft Worth, (Where Tone is Big) Texas, USA.
Regards - Bob Coleman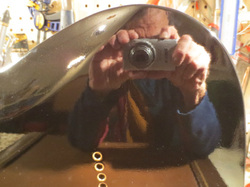 Bob Coleman photographs a newly sprayed
black nitro finish.

---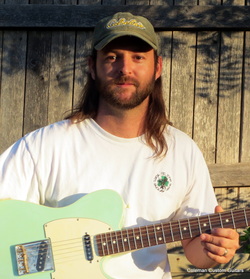 Robert Coleman is a master craftsman.

---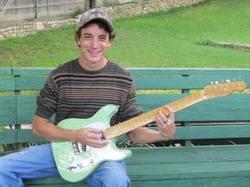 Ben is playing the Original Double Cutaway
Ben Coleman plays guitar and pitches in with his skills and talents.

---
***Neck Pocket Fit Demo*** At Coleman Guitars the fit and angle of the neck is critical. Too tight and the neck will probably crack the finish if you remove it. Too loose and the vibration from the neck won't transfer to the body, bridge, nut, pickup and so on. The points of contact are flat sanded to ensure maximum resonance of neck to body.
Testimonials and Reviews..................
1. Michael Innes from Illinois -
"Thought you'd appreciate a note on the guitar after a few weeks of playing. The verdict is great! I believe it's going to become my #1, if not already;)
The tone attributes are diverse from all PU positions, It sustains for days, and the neck is definitely pro grade! Believe it or not, the nitro paint is still is settling in and looks great. It seems to take better to my Vox amp rather than my go-to mid 80s Music Man, likely the tubes and the mini HB are very friendly".
*** Follow Up***
Hey Bob,
Quick note, the trans red dbl cutaway will be making its gig debut in a few weeks. I just got my band headlining a show over Labor Day weekend. I'll try to send some images for you!
It's my #1 now!
Thanks for the inspiration;)
Michael
--------------------------------------------------------------------------------------------------------------
2. John Weeks from Pappa Jukes comments on his Blackguard Relic -
"Hi! I played it again using an Xotic BB preamp pedal in front of the super, added a little bump and grind (if you haven't tried one you should-transparent, extremely adjustable, very little compression, lets the authentic tone of the guitar ring through). Sounds really, really good! Nice weight, nice feel, easy player, really nice bite on the bridge without sounding nasally or snarky. As you know, Fxxxxr amps bring that out if it's there. The neck is round and smooth, not a lot of single coil buzz on either that I can tell. Weight is correct, neck is extremely comfortable--a little fatter than I'm used to, but very pleasant indeed--I could get very used to it. Fills the hand quite nicely. First guitar I've owned with a soft V--I can see why folks like it.
I had to look up Tadeo taper--very cool indeed. I love the neck pocket (contour) and I will be working on volume swells with the control panel set the way it is.
Thanks again, so far so good! I'll road test it next weekend.
Plus, the wearing finish on the neck is spot on. Had to have been done by a true player. Thanks!".
-------------------------------------------------------------------------------------------------------------
3. Arizona Art owner of a Twang Thang
"Ive been playing the Telecaster for over 35 years, Texas swing is what I do. Needless to say, the guitars I play must FEEL good, Sound Good, and Look good. Well folks, at Coleman Custom Guitars you get that and even more. You get what you ask for! I talked to alot of so called custom builders before ending my search with Bob Coleman. I started with Honesty, and got that from Bob the very first time we spoke. He wants to build you the tele you want, with no BS in the middle. His price is more than fair, and you get an amazing built T-Series. Detail, Quality, and above all Honesty!!! Thanks for building me such a great Tele Bob, and ill see down the ol dirt road!! Pickin in Arizona> Art.... "
----------------------------------------------------------------------------------------------------------------
4. Mike Metzler - owner of Custom T-Series with Paulownia body, Fralin Blues Specials, 3A Birdseye neck and Coleman's custom closet relic process.
I recently ordered a tT-Series from Bob Coleman. I made it a slight relic with pickups designed with a lot of tele spank. I was reluctant as I don't know Bob but had played one of his guitars and liked it. I picked up the tele last week and it is the best playing and sounding tele I have ever owned. I have owend Tom Andersons, Fender Am Std, Mex Stds, and American Deluxes. The playability and fit and finish is incredible. I took it to a major national dealer and A/B'd it with a relic custom shop fender tele that was $4999. The salesman (a very good tele player) admitted it blew the Fxxxxr away and asked me many questions about Bob and his guitars. Bobs T-Series was lighter, played better, had more spank, and was meatier also. Very happy with this guitar. A friend of mine who has toured with one of the largest country national acts in the last 20 years played it on a gig last week. He has an Am Std that has had custom pickups installed. He was also very impressed at how this guitar was better than his in every way.
-------------------------------------------------------------------------------------------------------------
5. Stephen Pointer, lead guitar in Gary Kyle Band if the Ft Worth, Dallas, Texas and adjacent States.
" As far as custom guitar builders go, Bob Coleman is one the best. I believe Coleman guitars are as good, if not better, than other custom builders like Bill Nash. My Coleman guitar is my number one on and off the road, and I can't wait to add another one to my arsenal. Bob's attention to detail and flawless craftsmanship show his true love for the perfect custom instrument. My favorite thing about Bob Coleman is if I have a special request, he'll do everything in his power to make it happen. A true sign of a "custom" instrument. These guitars look, sound, and play amazingly. I'm now a Coleman fan for life!"
-------------------------------------------------------------------------------------------------------------
6. Rick Richardson
to me Bob,
"The pine Blackguard you just finished for me arrived today and I wanted to take a few moments to express my gratitude to you for creating the best guitar I have owned so far. This guitar proves that even a guitar as simply designed as a T-style guitar is at its very best when built with care and professional expertise. Everything about this Coleman built Blackguard represent the pinnacle of what a T- style guitar is capable of being. Not only is she beautiful to look at but she is easily the best playing guitar I've personally owned. Your neck work and setup are as good as it gets and at the end of the day, a guitar can only truly be judged by its playability and tone. Both of which are the highlight of this beautiful Coleman Custom Guitars Blackguard! For this, I tip my hat to you sir. Thank you for a fantastic custom guitar experience."
Rick Richardson
Reno, Nevada
7. The Guitar: Pine Body
All Maple Fat neck
Fralin Standard Alnico III Bridge pickup
Fralin Neck Humbucker
500k Pots
Nocaster Blonde (all Nitro)
Barden Bridge
Split Shaft vintage style tuners
American Deluxe Style Neck joint
Handmade in Texas
Arrival:
After a hard (an enjoyable) day at work I snuck home really quick to pick up the guitar before heading to band rehersal. As I opened the box, my drummer immediately asked why it smelled so good. Talk about good vibes. I unzip the gig bag to get a first glimpse of the beautifully crafted Tadeo taper on the back of the headstock. A few more inches down the zipper and I see the spot on Blonde color. (Think pre 2012 '52 AVRI but less orange). The awesome smell is getting stronger at this point. Finally it's in my hands. It's Light. I tap the top of the body. It Rings and it's Resonate. I tune it up, stretch the strings and play a E chord. Sustain for days.
First go:
We start up a 12 bar. I'm in the bridge pickup. Cuts like a knife. I try the neck pickup next and the volume matches perfectly with the Bridge. Just a tad bit less present just the way I like it. Still sounds tele like however more round. Still cuts like a knife. I'm playing through a 100 Watt ('73?) Plexi through a 1x12 pine Celestion loaded cab. The magic happens when I switch to the middle position. Just like a good old tele with a tad more oomph in the bottom. The fat neck fills my hand perfectly. It's a very satisfying experience. Time for some more kick. I kick on the Catalinbread SFT and noodle a bit. The neck feels nice and even all the way up the frets. The rolled edges feel amazing. Much better and more natural than the over rolled edges of some of the Fenders I played. I can take advantage of all the frets due to the ergonomic neck joint. Classic blackguard looks that plays like a million bucks.
Next up:
We start a more ambient number. This sound revolves around the TC Flashback x4. Neck humbucker. In love with how the bottom fills the "space" but the high strings are still present and ringing. It sits in the mix very well. Even when I kick in a Green Muff clone for some Gilmour esque soloing. I'm loving how I can hear each individual string even with the muff on. A very inspiring instrument.
Slap back:
Preset number 3 on the flashback. Time for some chicken pickin. Kick on the Boss CS3 and there's that awesome Southern studio sound. With the back pickup on I feel like this is the guitars natural environment. Love love love the guitar.
Bob is a wonderful guy to work with. He makes sure every detail is right before he starts. He has a great personality that can get along with anyone. Wait time isn't too bad compared to other builders. I enjoyed my experience working with him. I strongly encourage others to check out a Coleman guitar. I can't find a single flaw with mine.
Pictures coming soon!
--------------------------------------------------------------------------------------------------------------
8. Review from Wayne P. regarding his new T-Style.
NGD!!! Coleman T-Style
Hey everyone - I am relatively new here, but I am a regular at TGP where I have over 2200 posts and have been a member since 2005. I just wanted to share my new T-style build with all of you over here. So here goes.
I have been on a T-style hunt for a while now. I spent a lot of time shopping on line. I did my homework and contacted several builders for information and quotes. Builders I contacted or looked at guitars from included Yaron, Red Roscket, LsL, Ron Kirn, Glendale, Nash, Creston, Underwood, Suhr, Melancon, TAG, and of course, Fender.
I went to the Arlington Guitar Show in October with the hope of finding the right guitar, but just did not find the right fit. It was when I was on my way out of that show that I ran into my friend and PRS rep Jim Russell. He told me about a guy in Ft Worth that was building really great quality T-stye guitars. That was how I ended up contacting Bob Coleman.
Well yesterday I picked up my Bob Coleman Pine T-style guitar and man am I impressed. Here is why -
This is the least expensive guitar I have purchased in the past 10 years. New cost was way less than $1500, but it is a great player with super tone.
Bob Knows his stuff. Built to my specs with parts selected by Coleman and myself for a specific feel and result, this was a totally collaborative effort. Bob is a great resource for materials and ideas.
Red Dirt Pine body - super lightweight - Total weight of the guitar is 6.5 lbs.
Lindy Fralin Pickups - slight overwind - 2% neck, 5% bridge (Paisley set up) - great tone.
El Dorado dark brown, leather pickguard.
AAA bird's eye maple neck with Clapton neck carve - v-style, 10-16 compound radius and a custom satin finish by Bob Coleman with special mods to create that worn in feel. 6150 frets.
Joe Barden notched bridge plate with brass, compensated saddles.
Custom heel cut for better upper fret access.
Kind of a de-glossed custom finish with very light relic look.
Dakota Red so it fits in with the rest of the red guitar collection.
Super fast action and low string set up, but still offers that bend-ability you want on a T-Style.
Reversed switchplate for easy volume knob access.
One position on tone knob will remove tone pot from the circuit completely. (No Load tone pot)
Bob puts together guitars that are far greater than the sum of their parts. If you are looking for a great guitar made to your preferences at a price that is much better than a lot of the options out there I can highly recommend working with Bob Coleman.
Note: No affiliation, just a satisfied customer.
--------------------------------------------------------------------------------------------------------------
9. Hi Bob,
Now that it's been a few months and I've had a chance to put my Coleman T-Style through its paces, I figured I'd give you a full report. It's one of the best guitars that I've ever had the pleasure to play.
I'm not a typical T-Style player so having a custom build was very important to me. I've always loved the body style of the T-Style but I've never been a fan of the "ice pick tone" or the weight. That's where Coleman Custom Guitars entered the picture. The paulownia wood body coupled with some body shaving here and there and a few other tricks created the lightest T-Style I've even played. I can sling it around all night and it doesn't bother my back. The tone has more than enough top end without being obnoxious and plenty of mid range honk if needed. I did a couple of mods once I started playing it - I put a Duncan Little 59 in the bridge and swapped out the Barden saddles with GraphTech String Savers. The guitar can go from a Tele with an attitude to a vintage Les Paul with no problem and the mini-humbucker in the neck gives a great "Memphis" sound.
What really sets this guitar apart is the neck setup. The frets are perfectly dressed, the neck is consistent from the first fret to the 22nd and, because of the way that you shaped the neck heel, I have access all the way up the neck. I didn't think it would make much of a difference when we first talked but I have to say that the Tadeo Taper at the nut is a lot more comfortable when playing open chords.
The Dakota Red paint job with the black pickguard is gorgeous and has drawn some compliments, for sure. The guitar just says "quality" when I pull it out of the case.
All in all, the whole experience of working with your company has been a real pleasure and I'm awfully glad that God led me to call you. You created a wonderful working man's instrument that will be usable for a long long time at a very fair price. Thanks so much and we'll be talking about that Dakota Red paulownia Strat very soon!
------------------------------------------------------------------------------------------------------------
10. Jeff Cook
, Sep. 2014
Bob, The T-Style you made me is by far the best guitar I've ever played. It smokes my custom shop s-style in terms of feel and sound. I took a little bit for the lacquer on the neck to soften and smooth out, but it is the best instrument I've ever played.
--------------------------------------------------------------------------------------------------------------
11. Mike McClain Oct. 2014
After playing a Suhr Classic and a Fender Strat exclusively for twenty years, I became bored with what I was playing. Three years ago I discovered how easy it was to buy and sell on the internet and have been spending my time, buying and selling, looking for that "one" guitar that would excite me again. I can't begin to tell you how many I have been through. Two months ago, (August 2014) I heard about Bob Coleman and the guitars he was building in Fort Worth, TX. I did some homework on Bob and even talked to a few people who had purchased guitars from him. I liked what I had read and heard and gave Bob a call. Our first conversation lasted about three hours and we went over everything that goes into a custom built guitar. From fret size to the type of screws, he went over everything. After much thought and research, I made my decisions and had Bob build me a guitar. I ended up with a T style guitar in Lake Superior Blue with Custom Porter pickups and the most awesome neck in the world. Since receiving the guitar, I have not played anything else and in fact have been selling the small collection I had accumalated over the past three years or so. Nothing else comes close to the guitar Bob built for me. His expertise and customer interaction is stellar and his work is awesome.
The best thing I enjoyed about working with Bob was his advice and suggestions. I have always played C to medium Oval neck profiles usually with a 12" radius. Bob suggested that I try a nice thick soft V with a 7.5-9.5 compound radius. I have to admit I was very hesitant about taking him up on his advice, but in the end I figured, what the heck! I was looking for something new. I am so glad I listened to him. The neck on my guitar is the sweetest thing I have ever played. It fits so comfortably in my hand. I am able to do things now, that I was never quite able to do on the thinner necks on my other guitars. It is really something to behold. From the Tadeo taper to the rolled fretboard, this neck is awesome!!!
Bob's work is beyond compare and I would recommend him to anyone and everyone. His work is top notch and his communication is spot on. He really cares about his finished product and his customers satisfaction. I will be ordering another from him
real soon!
After owning for a couple of months Mike writes:
Hey Bob,
I have to tell ya, I love my Texas T the more I play it. I can't believe how it just gets better, and better, and better…..AWESOME!!!!
------------------------------------------------------------------------------------------------------------
12. Kassie Hammack, TX, Oct, 2014
The Coleman Custom experience is for sure one I would do again! Working with Bob was great from the time we met to picking up my guitar! I love everything about my guitar and it just keeps getting better and better every time I play it!
------------------------------------------------------------------------------------------------------------
13.
Hi Bob,Thanks for posting the video!I got the guitar this evening. Good God!First thought: how is the box so light? Did he forget to put the guitar in it!?It is gorgeous, exactly how I wanted it to look. And by far the most comfortable guitar I've ever played - almost as if it was made just for me... ! And that fat soft V to C neck feels right the whole way up. Each of the pups sounds fantastic too -- I love the neck/bridge, the combo of the hot bridge and the buttery CC is just incredible.
------------------------------------------------------------------------------------------------------------

14. Joshua / SoCal Nov 22, 2015
Bob Coleman made this beauty for me. I've had it about a month now, and haven't been able to set it down. Here's what it has going on:
Stupid-light, contoured paulownia body
USACG custom neck - a fat soft V to C, compound radius
Lollar pickups - Charlie Christian, Special S, Special T
5-way switch with push/pull pot
It's the finest guitar I've ever played - it's like playing air guitar: everything is exactly where it should be, and it sounds just like I hoped it would. At 5.5 pounds, it's not much heavier than air guitar.
-------------------------------------------------------------------------------------------------------------
15. Steven Bollman Mar 18,2016

Hi Bob,
Received the guitar today. In a word...Spectacular!
More words... Best electric I've ever owned. Utterly thrilled.
Thank you, thank you, thank you!
-----------------------------------------------------------------------------------
16. LaMa Choate 12 May, 2016
First, I just want to say something about the overall business experience. Anyone hesitant about buying a guitar online can put those worries aside. Dealing with Bob is a pleasure. He is honest and entirely trustworthy. The process of picking out what you want in a custom guitar is actually a pleasure itself. All my communications with Bob have been just terrific in every respect. What you order is exactly what you get.
I had a guitar in my mind for quite a while. I gave that vision to Bob and he made it happen. He took the time to discuss every detail with me. He wanted to know what I was looking for in a guitar and patiently explained the answers to my many questions.
As for the product, I couldn't have been more pleased. It's better than I imagined. On Bob's recommendation, I went with the paulownia. I am so glad I did. It's a T series with three pickups. This is the lightest guitar I've ever played and I have never played a more comfortable guitar. This is the exact neck size I wanted. The tone from this wood is fantastic. Yes, the Fralin pickups have a lot to do with that as well. But it is shocking how loud this thing is unplugged. This guitar is absolutely amazing. And these pickups have no peer. I'm getting every tone I'm looking for.
Throughout the building process, Bob kept me up to speed with pictures and descriptions. The guitar arrived on time, in a very cool thermometer case. The finish, craftsmanship, well, the whole experience exceeded my expectations. This guitar at this price point with this service is astounding.
I've played guitar for almost 40 years. I've owned quite a few guitars and dealt with a lot of people in that time. I can say I've never had a better experience than this. I give Bob Coleman and Coleman Custom Guitars my highest possible recommendation.
LaMar Choate
Wayne City, IL
----------------------------------------------------------------
Contact info
Email - bobguitarplayer@gmail.com
Phone - Bob 817 291-4740

Coleman is an authorized AllParts dealer. - Need a part? I offer a 10 % discount on any part from AllParts.
CopyRight 2012 All Rights Reserved