(FOR SALE PAGE)

PLEASE CALL FOR AVAILABILITY BEFORE MAKING A PURCHASE. BOB COLEMAN 817 291-4740 OR USE OUR CONTACT PAGE
We usually keep a small number of guitars in stock. No two are alike and they are all professional grade instruments, at home on Stage or in the Studio!!
We also sell parts, painted bodies and necks at lower prices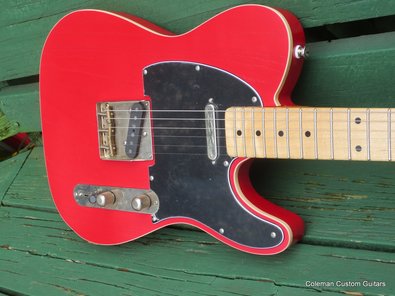 Our Latest beauty on the market
Lightly aged cased under bed look

For Sale $1,685.00
Body - Very light 2 piece Swamp Ash - 6.2 lbs +-
Paint - Tung Oil front and neck, Slim Skin Dakota Red nitro back and front. Ivory binding on front
Neck - GuitarMill, maple, 21 frets, 6150 fret size, med C,10" radius, 1 5/8" graphtech nut
Pickups - Porter Custom set
Tuners - Gotoh Vintage
Bridge - Barden, compensated 3 brass saddles with the finger pickers notch
Hardware - Vintage Style nickel, lightly aged
Controls - Reverse mod, 4 way selector, tone & volume
Electronics - Grigsby 4 way, CTS 250k pots, Black Candy paper in oil .022 uf tone capacitor, vintage cloth insulated wire
Contours - Tummy cut, rounded neck heel, beveled cutaway
Case - Thermometer Style Tweed hardshell case included
Shipping - Not included, will ship international
*Note* Same guitar but has red pearloid pickguard, I have a creme white pearloid PG if you like.
See Gallery page for more photos and video
---
For Sale - $1,800
Custom T-Series
Body - One piece Port Orford Cedar
unique skeletonized design.
Weighs only 5.6 lbs
Neck - AllParts 21 fret, rosewood,
Med C profile, 10" radius,abalone fret markers hand-rolled fretboard edges.
Bridgeplate - Gotoh reduced lip,
3 compensated brass saddles.
Pickups - Firebird Mini Humbucker
neck, Bill Lawrence stacked bridge for a hum free guitar.
Paint - Gunmetal flake with poly clear gloss finish. Black binding.
Tuners - Gotoh true locking vintage style, nickel.
Hardware - Nickel and chrome humbucker cover.
Controls - 4 way selector, volume and no load tone.
Electronics - CTS 250k pots, .022 Black Candy paper in oil tone pot.
Includes Black Hardshell case. ​Shipping NOT included. Will ship internatiionally.


---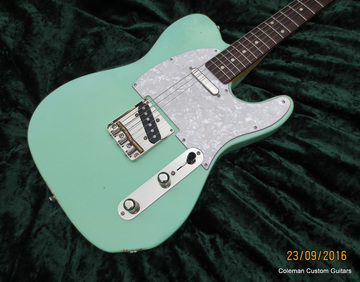 SOLD
​For Sale - $1,250
Standard T-Series (Light Relic)
Body - Empress weighs 5.5 lbs
Neck - AllParts Rosewood / Light Flame, 21 frets, 1 5/8" Graphtech
nut, Tadeo taper, hand rolled fret
board edges, 10" radius, Satin Nitro, Med C profile
Bridgeplate - Barden 3 brass
compensated saddles with notch
Pickups - Fralin Blues Special set
Pickguard - White Pearloid, 8 hole
Paint - Surf Green hand polished
nitro with very light relic.
Tuners - Gotoh Vintage
Hardware - Nickel
Electronics - 4 way, CTS 250k pots, .022 Black Candy paper in oil tone pot.
Includes Gig Bag, Thermometer style case available for $100, Shipping not included.
---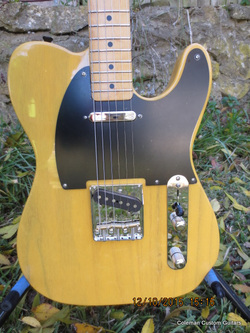 For Sale - $1,250.00
Coleman Custom Guitars - Blackguard

Body - Empress, Ultra light 5.5 lbs, very loud
and acoustic un plugged
Neck - AllParts Maple,
21 tall frets (.079" x .051"), modern
Solid maple neck
10" radius
Nut width 1-5/8"
Heel width 2-3/16"
Tuning Peg Hole Diameter .340"
Truss Rod adjustment at heel
Neck thickness .85" @first fret, .96" @ 12th
Hand rolled fretboard edges, Tadeo Taper, Graphtech Tusq nut, Caramel Nitro finish
Bridgeplate - Joe Barden, 3 compensated brass saddles, notched
Pickguard - Real Bakelite
Pickups - Fralin Handwound Blues Special set
Paint - Butterscotch Blonde nitro hand polished gloss
Tuners - Gotoh Nickel
Hardware - Neckel Plated
Electronics - CTS 250 pots with no load tone, Black Candy .022
tone capacitor
Includes Gig Bag
A professional's guitar set up by a professional player. I use a straight neck setup that gets the action as low and fast as it can be. Out of the box ready for the studio or stage.
Shipping Not Included.
---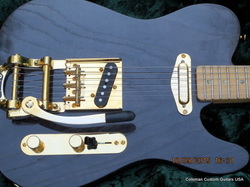 For Sale $2,500.00 / Top Quality
T-Series Custom - Light Weight 7.2 lbs. Unique and versatile. One of the best necks I've seen.
Body - One Piece light weight Swamp Ash 7.2 lbs with Bigsby on.
Neck - Robert Gilmore 4A Birdseye, satin nitro, Med-Thick. C, 6105 frets, 21 frets, 1 5/8" nut, graphtech nut, hand rolled fretboard edges, abalone dots, made by hand in Israel, custom ordered for this project, one of the best necks made.
Tremolo - Bigbsy B5 with no screws mount plate, may be removed leaving no holes or marks. Gold plate.
Paint - Coleman's thin nitro Trans-Black with hand polished gloss finish. Shows the grain and the beauty of the wood.
Pickups - Fralin Blues Specials, the tone is second to none. Very Vintage Tone
Hardware - Gold Vitage Style
Tuners - Gotoh Vintage style locking
Electronics - 4 way control with "series" added, CTS 250k upgraded pots, Sprague .022 Black Candy tone capacitor, cloth insulated vintage wire.
Case - Included is a thermometer style hardshell case.
See Gallery for more photos and video
Shipping and handling estimated $70. Will ship internationally
---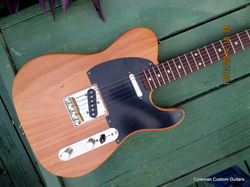 ____________________________________________________

$1,150.00 "SOLD"
Okoume-Caster
Body - Okoume, similar to mahogany and alder, light
weight, 6.6 lbs +-, Tung Oil low gloss, Bakelite
pickguard
Neck - AllParts maple/rosewood, med C, 21 frets, 1 5/8"
graphtech nut, 9.5 radius
Pickups - Fralin Standard Replacement set, balances
well with Okoume body
Paint - Tung Oil natural low gloss
Hardware - Nickel vintage style
Electronics - Grigsby 4 way, CTS 250k pots, Black Candy ./022 paper in oil capacitor
cloth insulated vintage wire
Controls -4 way, tone & volume
Case - Comes with gig bag
Shipping - Not included, will ship internationally

---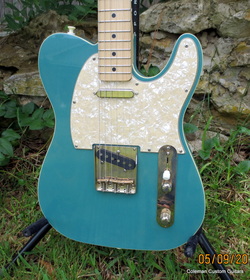 __________________________________

$1,185.00 "SOLD"
Coleman Standard Series with upgrades
Body - 2 piece pine weighs around 7 lbs. Metallic Teal nitro with ivory binding. Lightly aged finish.
Neck - 21 medium frets (.079" x .051") 25 1/2" scale length Chunky maple neck, 9.5" radius, Graphtech Tusq Nut width 1-5/8" Truss Rod adjustment at heel Neck thickness 1.00" at first fret, 1.00" at twelfth fret, Satin Blonde Nitro finish
Pickups - Porter Standard wound, neck 6.7 ohm bridge 6.2. .Quality unsurpassed in the industry. Very clean and articulate with wide tonal range. Capable of doing Jazz to Country. Honestly one of the best sounding and playing guitars ever from Coleman

Bridge - Barden 3 compensated brass saddles, aged nickel.
Hardware - All Vintage aged nickel.


Tuners - Gotoh Vintage nickel


Controls - 3 way switch, volume with treble bleed and no load tone.


Electronics - .022 Auricap paper in oil tone capacitor, CTS 250k no load tone and CTS 250k volume with treble bleed circuit, premium cloth covered wire, Oaks



Includes gig bag, lifetime limited warranty, shipping not included
---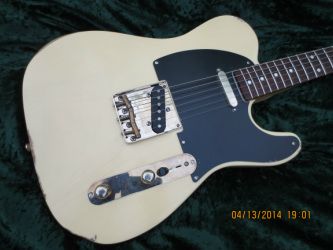 T-Series Custom - Light Relic - SOLD
Coleman Custom Series

Hand crafted one at a time in Texas
See more photos on the Gallery Page. Watch
Austin Jenkins of White Denim
as he takes his Coleman Nocaster for a dance. He tested it out and took it with him. A really great player.
---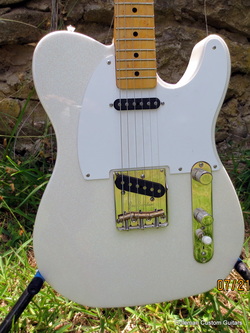 ___________________________________

$1,450.00 *
SOLD*
Custom Series
Selecct super light White Pine, 2 piece, 6 lbs
Custom White with "Halo" Flake paint "see gallery for more photos" Three part Urethane clear coat is race car finish is bullet proof.
Standard Thin Birdseye, 6150 frets, compound radius 10 - 16, 1 11/16" nut
Graphtech Tusq nut, hand rolled edges, 21 frets, Coleman's low fast action
Vintage slotted locking Tuners
Nickel plated Hardware
Fralin 10% overwound set - smooth, mellow and buttery tone, all the signature Tele tones are there
Joe Barden bridgeplate, notched with 3 compensated brass saddles
Reversed Control Plate mod with 4 way switch with that fat series tone, Volume and Tone
CTS 250k pots, Orange Drop .022 cap, Treble Bleed, electrosocket
New Hardshell Black Tolex Case
.
---
Email -
bobguitarplayer@gmail.com
Phone -
Bob 817 291-4740
Coleman is an authorized All Parts, Fralin and Porter dealer. - Need a part? I offer a 10% to 15% discount on any part from AllParts.
Copyright 2012 All Rights Reserved
Coleman Custom Guitars USA are not Fender guitars and have no Fender made parts. They are in no way to be confused with or sold as a Fender product. Fender is a Trademark of FMIC

------------------------------------------------------------------------------------------------