Get inspired - Play Guitar -
​ Be happy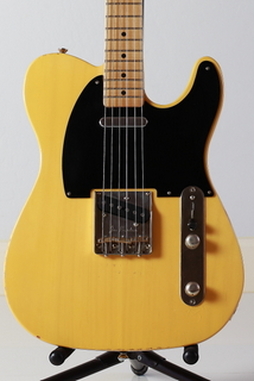 Custom Crafted Guitars
Made affordable.
There is no Comparison

See For Sale Page
for
Guitars in stock

Be sure to visit our Gallery Page



Contact Bob Coleman at 817 291-4740 or email bobguitarplayer@gmail.com

The idea is simple, we will build it your way. You have ideas, we bring them to life. We can make time proven successful suggestions if you don't know where to start.

---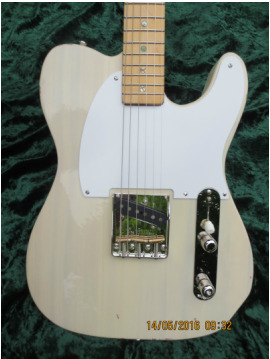 Example Starting Prices




Epic - Starting at $1,100.00
Includes - Fralin or Porter pickup
Empress body
AllParts neck of your choice
Top shelf electronics
Gig Bag
Shipping and options at additional
cost.


---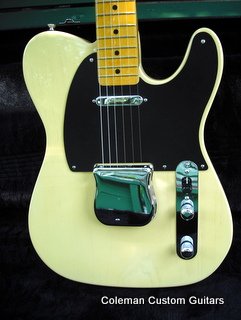 Standard T-Series - Starting at $1,250.00
Includes Fralin or Porter Pickups,
Pine or Empress Body,
AllParts neck of your choice,
Top Shelf electronics,
Nitro finish Vintage colors
Gig Bag
Optional Thermometer style Hardshell Case. Other options at additional cost.
Shipping and Handling not included.

---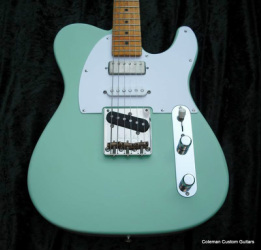 Custom T-Series - Starting at $1,500.00
Includes - Swamp Ash Body.
Custom neck by USACG, Musikraft
Guitar Mill or other.
Pickups from Fralin or Porter.
Vintage colors in Nitro finish.
Top Shelf Electronics.
Gig Bag
Optional Thermometer style hardshell
case, Other options at additional cost.
Shipping and handling not included

---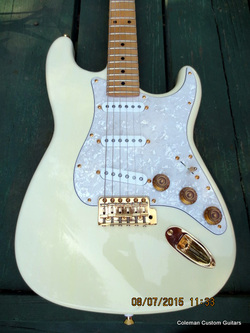 Standard S-Series - Starting at $1,350.00
Includes - Empress Body total weight 5.2 lbs
AllParts neck of your choice
Pickups from Fralin or Porter
Nickel vintage style hardware
Gotoh Tremolo and tuners
Top shelf Electronics
Blend Pot
Gig Bag
Optional - hardshell case, Other options at additional cost.
Shipping and handling not included
---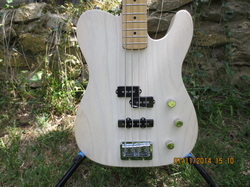 Standard - TrueT Bass - Starting at only $1,500.00
Includes - Swamp Ash Body
AllParts neck of your choice
Pickups from Fralin or Porter
Nickel vintage style hardware
Hipshot bridge and tuners
Top shelf Electronics
Gig Bag
Optional - hardshell case, Other options at additional cost.
Shipping and handling not included
---
A few of the latest custom designs from Coleman
Please see the Gallery for more photos

| | | |
| --- | --- | --- |
| New Skeletonized design for ultra light weight. One piece Port Orford Cedar body for strength and stability also produces a lot of sustain. | | |
| | |
| --- | --- |
| S-Series - $1,750 - Aged White nitro thin coat finish. Empress body weighs only 5.2 lbs. Nice Med - C AllParts neck with a 12" radius and Jumbo frets. Gotoh Tremolo with steel block. | Try a 5.5 lb Empres S-Series - $1,900 - with Klein pickups. It's owner says it is the best in the world. A fatneck Birdseye and blend knob circuit yhat makes possible neck + bridge and all three. |


Just some of what we do at

Coleman Custom Guitars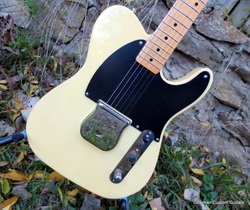 This E-Series single pickup has a few tricks up it's sleeve. The pine body makes for a total 6.5 lbs. It has the Eldred Mod with three distinct tones from one pickup. Most of all it has a Porter pickup Brian Porter wound especially for this guitar. It is 8% overwound with alnico 5 flatpole magnets and a steel backplate for incredible spank but no icepick. Incredible $1,100

---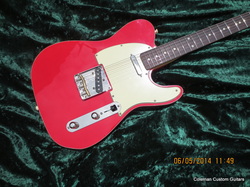 Dakota Red T- Series Standard
This one is equipped with Porter Custom flat pole bridge pickup, a lightweight bound pine body and rosewood neck. See more on the Gallery page.

---
Trans-Red Double Cutaway Custom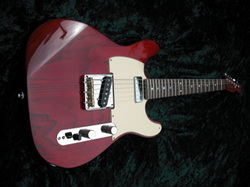 Very Elegant Guitar
Here is Coleman's original Custom Double Cutaway. It's made to the highest standard with a beautiful One Piece Swamp Ash Body and almost three dimensional Trans-Red finish.It's Mahogany Neck is sleek, fast and has a satin finish on the back. See Gallery for more photos. Order yours made the you want. $2,250

---
Twang Thang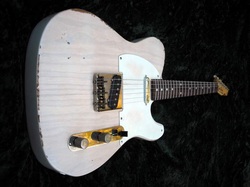 Twang Thang Custom
Lightly Reliced Session Series. Looks used but not abused. All new, carefully aged body, neck and hardware. Includes American hardware and pickups. Has a Soft V-Neck with vintage 7.25 radius in either Maple or Rosewood fretboard. Thin Nitro finish that really shows the grain. Order yours today. Options available. $1,250

---
Ultra Light (5.6 lbs)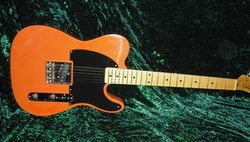 New Ultra-Light
Combines the light weight Empress body with a Lollar Vintage-T pickup for a guitar that makes playing fun. The total weight is an amazing 5.6 lbs. The tone can be described as a vintage woody twang that is very popular among country players. It will rock when needed. The Eldred Mod provides three distinct and very usable tones. Very cool for a single pickup guitar. $1,100

---
Blackguard Vintage 1950's Pinecaster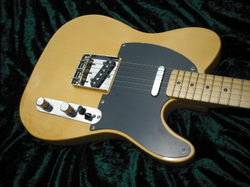 New Pinecaster Butterscotch, Fralins,
Here is Coleman's new Blackguard Pinecaster made to look and sound like the Vintage early 50's. Nice and light at only 6.6 lbs. with it's 9.5 radius and chunky C profile it's pure pleasure to play. The Fralin hand made 2 % overwound and Blues Special pickups are the same as Brad Paisley uses. They retain the clarity of the vintage T-style yet not ice picky and with a little more drive. With the Pine body, the neck pickup does the blues like it was born in Memphis and the bridge pickup defines that woody twang that your looking for. A real tribute to the winning combination that Leo found in the early years.
$1,150
---
Studio - Custom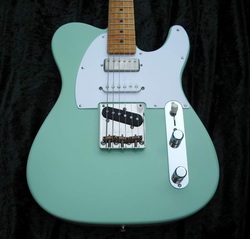 Mini Humbucker
This is one guitar that does it all and more. Swamp Ash body in Surf Green and Pro series neck. Seymour Duncan Neck with Fralin mid and bridge pickups. A very popular design. 5 way super switch gives the bridge & neck combo that is a must. Have one created to your specifications. See the Contact page on how to order.
$1,880

---
Double Cutaway Standard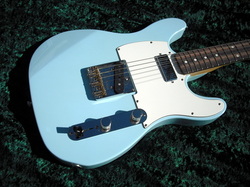 Standard Sonic Blue
Coleman's unique design - Double cutaway Standard model. Sonic Blue thin nitro. This guitar is pure fun to play, lively and full of twang. Includes light weight, contoured Pine body weighs 6.4 lbs. Rosewood on Maple neck with 9.5 radius and 1 11/16" nut. Pickups include Fralin Firebird style mini humbucker neck and Custom Shop bridge Reverse control mod with 3 way selector and no load tone control. Please go to For Sale Page.



---
Blackguard Custom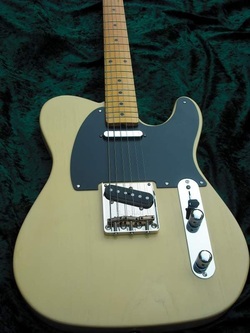 1950's Blackguard Design
Vintage style 1950's Blackguard. This is Coleman's premium hard to find, super light, one piece, Swamp Ash body. The Nitro Lacquer is hand polished to a thin glossy finish. Available in most Vintage colors. A figured Maple or Rosewood V-Neck adds to the It looks and feels like the original. The pickups are Fralin Standard Vintage and are clean with Vintage Twang. Optional contours cut for comfort. See Custom Order page to get yours the way you want it.

---
S-Series Standard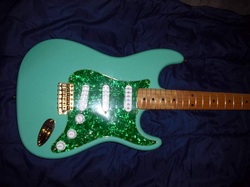 Custom Strat
Alder Body, Maple or Rosewood Fretboard, 9.5 radius, C profile, Fralin pickups. See Custom Order page for how to order yours. $1,300

---
T-Series Custom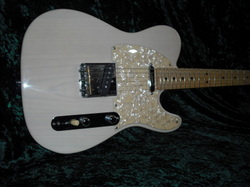 This ones gone but not forgotten. Now a mainstay in a Studio in Texas. Has Klein 5/2 pickups and a PLEKed neck. A real Gentleman's guitar $2,250

---
Coleman Custom Empress - 5.8 lbs

One of the best T - style guitars anywhere. Set up for the pro-player, it delivers all you'll need in tone and playability. Equipped with Fralin overwounds. See number 5 testimony below to see what the owner has to say.
$1,250

---
Coleman Custom - T-bucker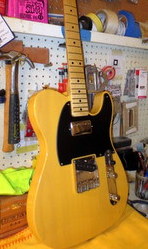 Fralin Pure PAF neck pickup but don't kick it to the curb yet.
"Love love love the guitar". is what it's owner says. Has a 5% overwound Fralin in the bridge position. Read number 7 customer review below. Here at Coleman we do bend the rules for our customers. $1,480

---
S-Series Custom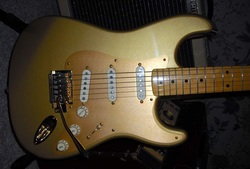 Trem King
Another upgrade from Coleman Guitars. Has American Standard Upgrade pickups. Replaced neck with a Japanese V-Neck. Replaced the tremelo with a Trem King tremelo. It solves all the issues inherent to factory tremelos and is smooth as glass. Won't go out of tune if you break a string and can D-Tune without re-tuning all other strings. Coleman Guitars installs Trem King Tremelo systems. $1,950

---
Meldoymaker P-90's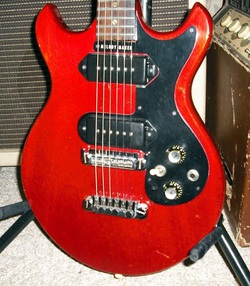 Customized Melodymaker
Coleman installed Seymour Duncan Antiquity P-90's on this 1965 Gibson Melodymaker. What a guitar. It does the blues like it was born that way but has enough Twang to do Country. That was a surprise. Another example of Coleman Custom upgrade ideas. You imagine it Coleman does it. Also available is humbucker and mini humbucker setups for LP Jr. and Melodymaker's. $4,500

---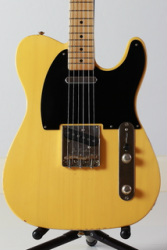 The Classic look of a Blackguard with overwound Fralins. Order yours today, call now. Number one selling Guitar.
Starts at only $1,250

---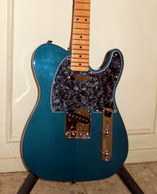 Standard T-Series with USACG neck, pine body, Ocean Turquoise Metallic, Fralin pickups, Barden Bridgeplate
Starts at $1,500

---
Custom Made Control Plates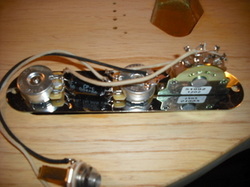 3 way Control.
Coleman we have advanced knowlede of schematics. We are able to build almost any of the popular wiring ideas you may have Same top quality that goes in Coleman Guitars.
Starting T-Series - $75
Starting S-Series - $125

---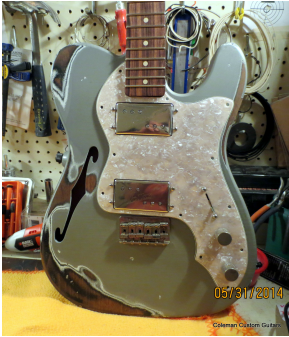 We can relic an existing guitar, sell Aged parts like tuners, control plates, or sell ready to install pickguards with pickups of your choice. Totally complete and ready to install in your custom project. This 72 Thinline RI has aged hardware and the body is heavily reliced. It has Wide Range Lollar humbucker pickups that sound like they did in the originals. One of the best that Fender ever did.
Just call about your ideas and we can get you a low great price .









---

Services include -Refinishing, Painting necks and bodies, Authentic Relic work, routing and adding pickups, Repairs and setups. Call for prices.




Testimonials and Reviews..................
see About Page

What else is new?

1..We are now an Authorized Dealer for Porter Pickups. Now you have two great choices, Fralin and Porter come at Standard level pricing on Coleman Guitars.

2 Coleman is now offering relic bodies - $200.00 and up, necks $200 and up, aged nickel hardware Call for complete pricing.

3. I highly recommend Paulownia as one of the best tone-wood choices. Read Testimony number 5 and 12 below. Very light weight, guitars usually weigh less than 5 1/2 lbs. Tone is very acoustic and loud even when not plugged in.

4. Did you know we are an authorized ALL PARTS Dealer? Save big on yor parts from the Worlds Largest Guitar Parts Supplier. Save 10% on orders over $50 and up to 25% on orders over $200.00.
Don't be taken advantage of. You work too hard for your money. Fast shipping by USPS at low cost.




Coleman Custom Guitars is not affiliated with Fender and in no way to be sold as a Fender product. Fender is a trademark of FMIC


Email - bobguitarplayer@gmail.com

Phone - Bob Coleman 817 291-4740

Authorized AllParts Dealer - Need a part? I offer a 10 % discount on any part from AllParts.
Authorized Lindy Fralin Pickups Dealer
Authorized Porter Pickups Dealer
Authorized Amazing Instruments


© 2012-2015 by Coleman Custom Guitars Guitars™. All rights reserved.
This website is protected by copyright and trademark laws under U.S. and International law.
All images and content may not be reproduced without written permission of Coleman Custom Guitars™.
Stratocaster®, Strat® & Tele® are registered trademarks of Fender Musical Instruments Corp.
Coleman Custom Guitars™ is not affiliated with Fender Musical Instruments Corp.
This site last modified Sep 24, 2016